What We Do?
JM Aircraft, Inc. buys and sells primarily piston-powered airplanes, from cabin class twins, light twins, high performance singles down to aircraft appealing to the first time buyer. The company welcomes trades and is an aggressive cash buyer for your airplane.
Where We Are...
JM Aircraft Inc. is located in Hickory, North Carolina nestled in the foothills of the beautiful Blue Ridge Mountains. Only 170 nautical miles North East of Atlanta, and 20 nautical miles north of Charlotte, N.C. Hickory Regional Airport has a control tower and runways measuring 6400 and 4400 feet.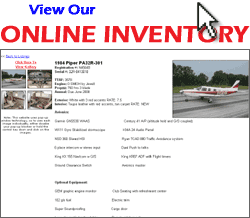 Who We Are...
Jim McCandless is the JM of the company and has over 15 years experience in aircraft sales, both domestically and internationally. The company has purchased and sold airplanes to Austria, Belgium, Canada, Germany Israel... on down the alphabet, as well as all over the United States. Therefore the company is familiar with all facets of importing and exporting aircraft, and also able to handle deliveries, both domestic and European. Jim himself has over 14,000 hours as a pilot and has flown numerous Trans-Atlantic trips himself, look for him to possibly deliver your next airplane.